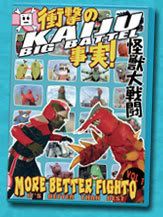 Kaiju Big Battel's More Better Fighto
review by: Jager
Kaiju Big Battel is definitely becoming a multi-media monster. Sure we all love the hot sweaty action of a live Battel. And while October 20th's Shpadoinkel Mania XVIII can't come soon enough, we have the comfort of weekly fightos on television through Action Blast. But we know that's still not enough, so to ease our pain we can watch our DVDs. The newest of these is More Better Fighto and when the KRC put this one together they had the fans needs up front.
Unlike previous DVDs, More Better Fighto is fighto after fighto after fighto with some great extras thrown in for spice. Of course the ever present Louden Noxious is on hand to host the event, but there aren't story lines or commercials (just for the record I love those) distracting us from our mayhem fix. No, here we're given 10 of the best Battels we saw over the past few years crammed onto one disc. A few stand out as especially killer fightos. There's the extra smelly confrontation between Gomi Man and Dusto Bunny. You can almost taste the toxic waste! I did!! Uni is becoming one of my all time favorites with his high flying antics. He looks especially great in the title match vs. Hell Monkey and then Dr. Cube... And then Kung Fu Chicken Noodle proves he is Mmm Mmm Bad. Then there is the almost mythical Rucky Charms match complete with leprechaun. Honestly, the funniest match I've ever seen.
Between each fighto, Louden Noxious and his new side kick Beav give us their thoughts and insights into each combatant and moves used. Not only do they have some interesting color commentary, they are sitting behind the largest Japanese Kaiju Vinyl collection I have ever seen. Seriously, I almost lost track of what was being said because I was hypnotized by the amazing toys. Who owns those?! Anyway, Louden is... well, loud and seems to know what's what, but Beav is a serious nerd. Music for the DVD couldn't be better if it was made just for the occasion. With bands like Peelander-Z, Gelatine, and the Spunks the battels are even more exciting.
Speaking of exciting, there is a huge Big Battel getting ready to tear down Boston on October 20th. The title, Shpadoinkel Mania XVIII, says it all. Kung Fu Chicken Noodle will defend his title belt and everyone is hoping for Team Spacebug's return to greatness. To help you get excited for the event, Kaiju Big Battel has teamed up with us to offer you a Minion Militia Kit. This kit is super sweet with a high quality minion mask, a surgeon smock with the Cube and Crossbone on the back (just like Dr. Cube wears), two exclusive buttons, a limited silk screen, a discount coupon for antifreeze (for your lobotomy), and a few wet ones for after surgery clean up. All this comes in a killer box and everything inside is uber limited!! To enter shoot over to our message board and sound off! This is your chance to tell Dr. Cube exactly what's on your mind. Love him or hate him; this is your chance to be heard. I guarantee he will see these posts. Winner will be chosen and announced by Dr. Cube himself!!
I'm excited about More Better Fighto. I love how it is action packed to the gills and doesn't bog down with story line. I mean, we love the drama, but we're here for the violence, right? When this DVD drops, be sure to pick it up.
Check out Kaiju Big Battel's web site for up to date info on all your favorite monsters. They also have a mall full of exclusive merchandise like some of the coolest t-shirts you'll ever see. Plus it's where you pick up a copy of this DVD. Click now to get your tickets to next month's Big Battel!!
You should check out our Kaiju Koverage page with all our Battel coverage, DVD reviews, and interviews. If you don't, Soup will come over there and give you the Five Finger Chowder Fist. (not really)
Review ©2006 MillionairePlayboy.com